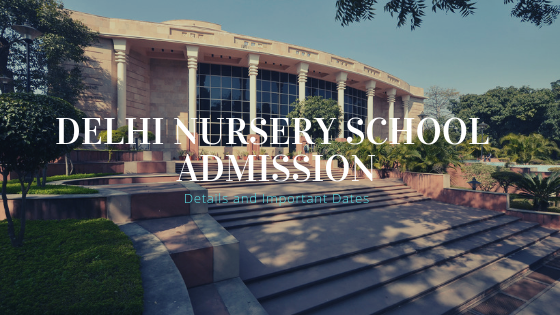 Delhi Nursery Admission Process will start from 28 November 2019. Nursery admissions 2020 dates announced by Delhi Government. As compared to last year admission to the class nursery, KG and first in Delhi schools will start early this year for admission to academic session 2020-21. The admission process for all schools in Delhi starts at the same time and covers all private schools.  The online/offline application process will be closed on December 27, 2019, as per the schedule released by Delhi government's Directorate of Education (DoE). We advised you to know about school infrastructure and read reviews about the schools in Delhi before applying for admission.
Explore Schools
The DoE has instructed all private schools in Delhi to upload their admission criteria along with points for each criterion for admission in open seats (non-EWS/DG), on its official website by November 28.
Delhi Nursery Admission 2019
Age criteria for admission
The government has set an upper age limit of less than four years to be eligible for nursery, less than five years for kindergarten, and less than six years for admission to Class 1.
Important Dates - Nursery Admission Schedule 2020
| | |
| --- | --- |
| Admission forms will be available in schools from | November 29, 2019 |
| Last date of submitting application forms for nursery class admission | December 27, 2019 |
| The first list of selected children will be out on | January 24, 2020 |
| The second list will be out on | February 12, 2020 |
| The Delhi nursery admission process will conclude on | March 31, 2020 |
For detailed schedule refer to the school website.
EWS/DG Admission
25% seats in pre-school (Nursery), pre-primary (KG) and Class 1 are reserved for economically weaker sections/disadvantaged groups (EWS/DG) as per RTE act.
Top Schools in Delhi
You can browse through the below lists of top schools in Delhi NCR area wise to find out Best Schools in Delhi NCR for your kids. Explore Complete list of Schools in Delhi
About The Author:
SchoolMyKids Counsellor
Last Updated: March 23, 2020
This disclaimer informs readers that the views, thoughts, and opinions expressed in the above blog/article text are the personal views of the author, and not necessarily reflect the views of SchoolMyKids. Any omission or errors are the author's and we do not assume any liability or responsibility for them.
Follow SchoolMyKids on Facebook
---