If you are looking for easy paper craft ideas to keep your little kids busy, then we have the perfect collection of easy ideas of paper crafts for kids that will be absolute fun.
Try these simple craft ideas with all colourful papers as these are engaging activities and super fun also.
So, let's begin with crafty fun!!
15 Easy Paper Craft Ideas for Kids
Hope you will like these craft ideas for kids with paper and will try them at your home or School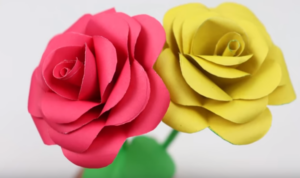 Rose looks so beautiful and also used in decorating items. So now, without plucking it from the plants, your kid can make this beautiful rose from paper very easily and will also look like real ones.
2. 3D Paper Cubes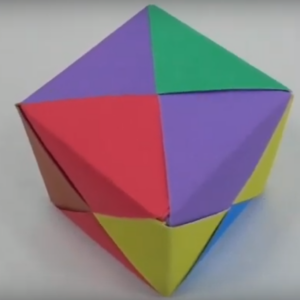 3D paper cubes are a unique way to teach your child about different shapes. It will also strengthen the kid's hand-eye coordination and your child will also enjoy doing this activity. Try this 3D paper cube with your child at home and you'll also love it.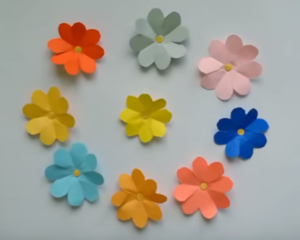 Time to make these beautiful flowers at home with such a simple technique.
So much fun and engaging activity for your kid, and it will turn out to be the easy paper craft activity for decoration purposes with colourful papers.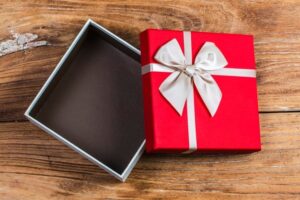 Whenever you need a beautiful gift box, you buy it from the market, but imagine if your kid can make it for you. Yes!! Your kid can make this by following some simple steps, and next time no worries to buy it from the market.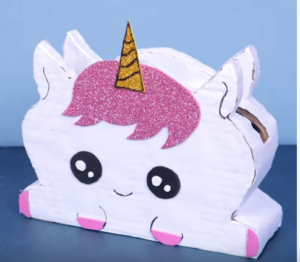 Children carelessly throw their pens or pencils here and there, and sometimes you take them out even from under their bed. It would be wonderful if they make a DIY pen stand and put all their pens or pencils in them.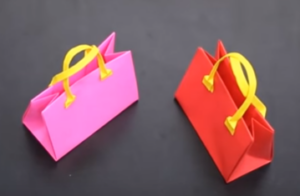 It usually happens that your lot of paper sheets are just lying around in the house. Now your kids can put them in good use by making mini paper bags and use them in wrapping small gifts. This is a creative activity and easy paper craft idea for gifts.
7. Wall Hangings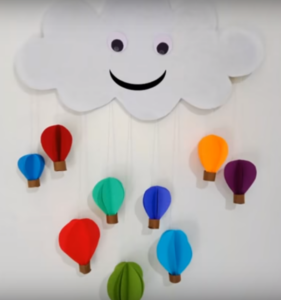 Wall hangings are anything that you hang on the wall artistically and creatively. It will redesign your room, and if kids make it, then it will increase their creativity and motivation as well because others may also see the creativity of your child. These designs are simple, easy, and full of life.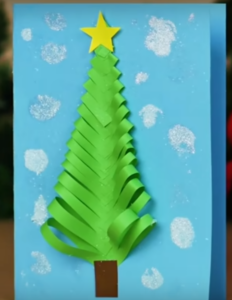 Easy paper craft idea for Christmas!!
Children loved it when they get greeting cards from their friends. So this time, they can also gift it to their loved ones. With colourful paper, they can make a beautiful Christmas greeting card which they and their friends both will love it.
9. Paper Heart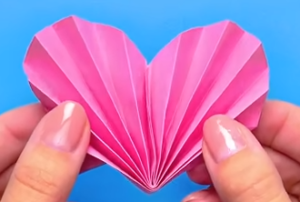 These simple and cute little hearts are very easy to make. Your kid can make many hearts like this and use it for hanging purpose in the room.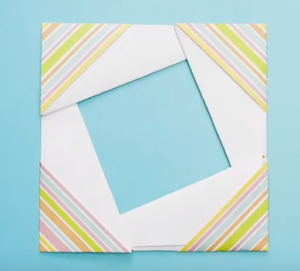 Everybody likes to collect memories in form of pictures and so as kids. It would be great if they put those photos in a photo frame. Don't buy it from the market, let your kids make them it for you.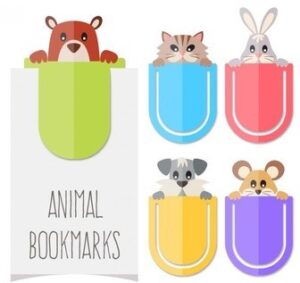 Kids read books and forget where they finish last. Bookmarks are the simplest way to mark where you left your reading and can continue from that part. Your kid can make different shaped bookmarks that they love and put those on the page where they finished last time.
12. Paper Stars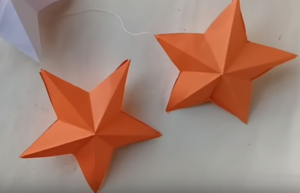 Kids love to see stars in the sky, but what if they can also see it in their rooms. Won't they just love it? With colorful papers, they can make colorful stars and paste them on their wall.
13. Pretty Paper Fans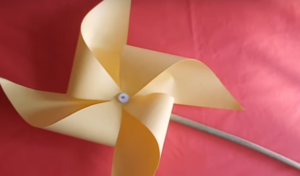 Pretty paper fans are easy to make, and kids can even play with them. They can make it of different shape, size or colour that they like. Just need a coloured sheet of paper, and they are ready to play with it after following some simple steps.
14. Notebook Covers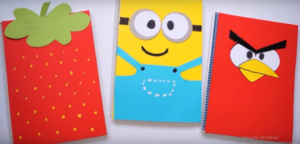 Now children would love to study from their notebooks. How can anyone resist themselves from opening these beautiful notebooks? Kids can decorate their notebooks by making different characters on it that they love. So let them try their imagination and creativity at the best level.
15. Paper Lanterns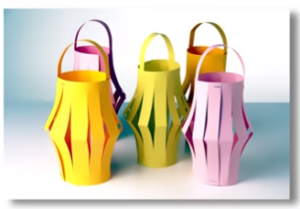 How about creating bright and vibrant paper lanterns? Use textured or handmade paper for better effects. Your child can beautify his/her room with lights and lanterns!!
These all paper crafts are easy to make and can be created anytime anywhere with fewer materials available. Try these paper crafts and let us know in the comment section below which one you like the most?