We prefer a lot of things eco- friendly. Being eco- friendly helps restore our environment to a certain extent and we are happy to help and contribute a bit to its wellbeing. So today we are going to make one eco-friendly mini paper bag. You can call it a gift bag too. Share in some sweets or candies in this bag and gift it to your loved ones. They would be surprised to see your creativity.
Kids will also love to make these cute mini paper gift bags.
Let's follow these steps to know how to make a mini paper bag
Materials Required to make a Mini Paper Bag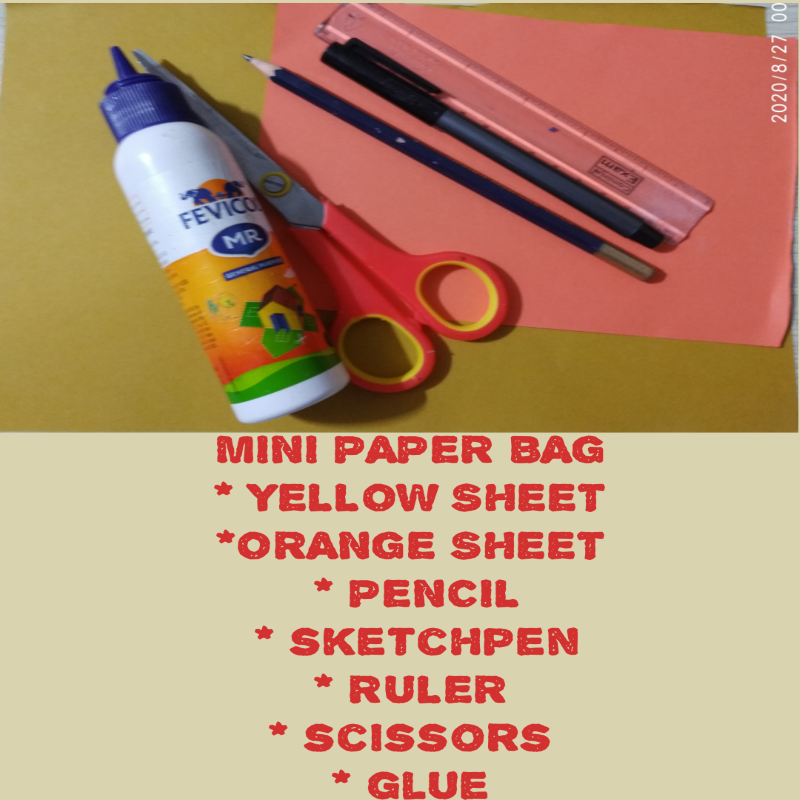 Orange sheet
Yellow sheet
Pencil
Ruler
Sketch pens
Scissors
Glue
How to Make a Mini Paper Bag Step by Step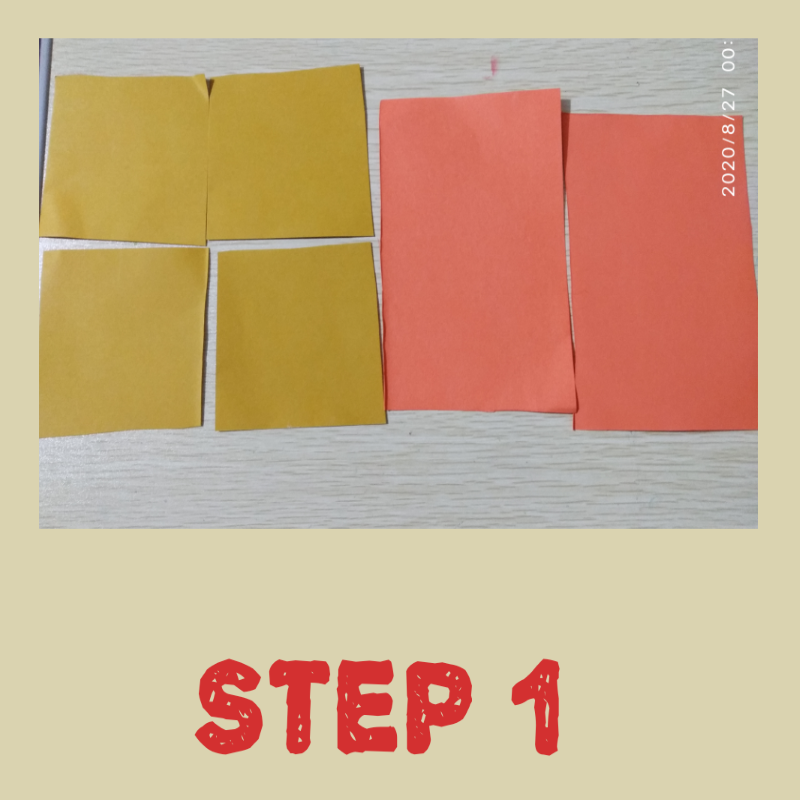 Take the yellow sheet and draw 4 rectangles of 6cm by 7cm. Cut and keep aside.
Now take the orange sheet and draw two rectangles of 13cm by 7cm. Cut and keep aside.
Now start folding the two orange rectangles vertically in an accordion fold.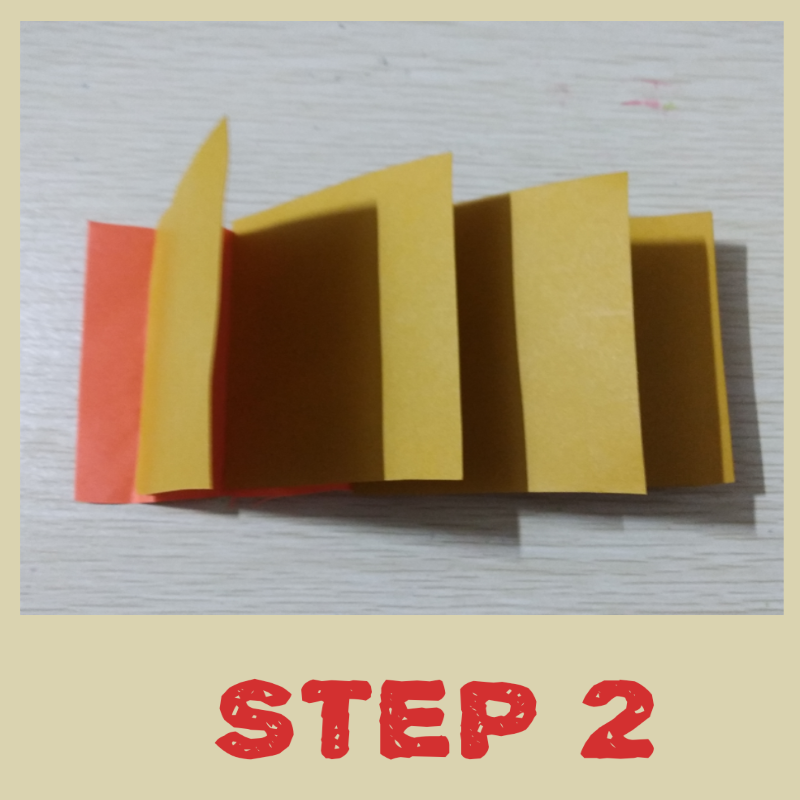 Stick one rectangle of yellow colour starting from the lower end of the accordion fold paper on one end, continue alternately till all 4 yellow rectangles stick on one side. Stick the other end of the yellow rectangle on the second orange sheet in the same fashion.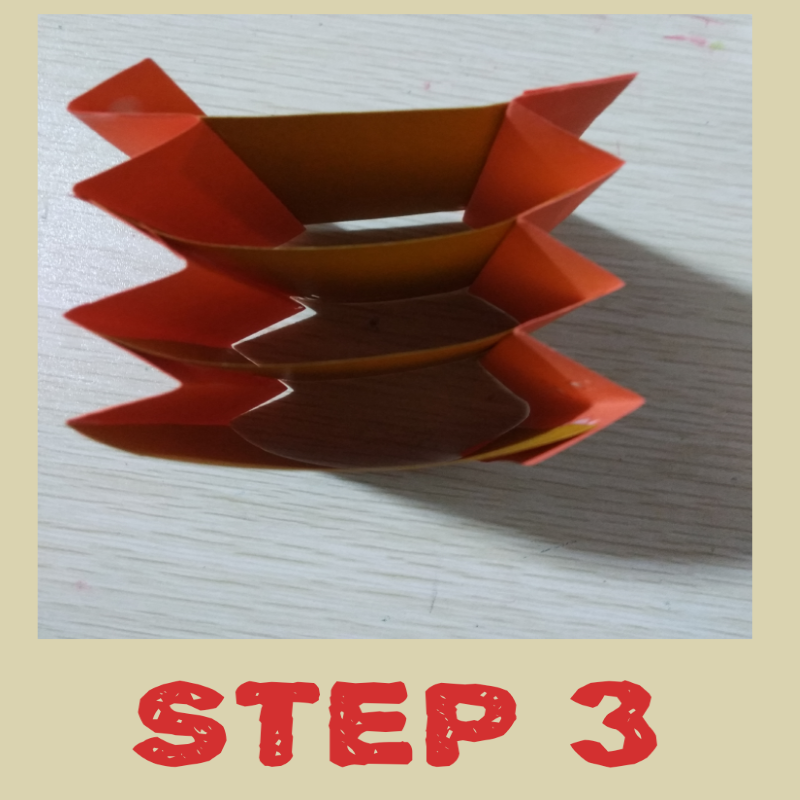 Once done, you have pockets in between the accordion-folded sheets. This is your bag.
We need a cover for the bag, for this take a yellow sheet and cut a rectangle of 7cm by 15 cm.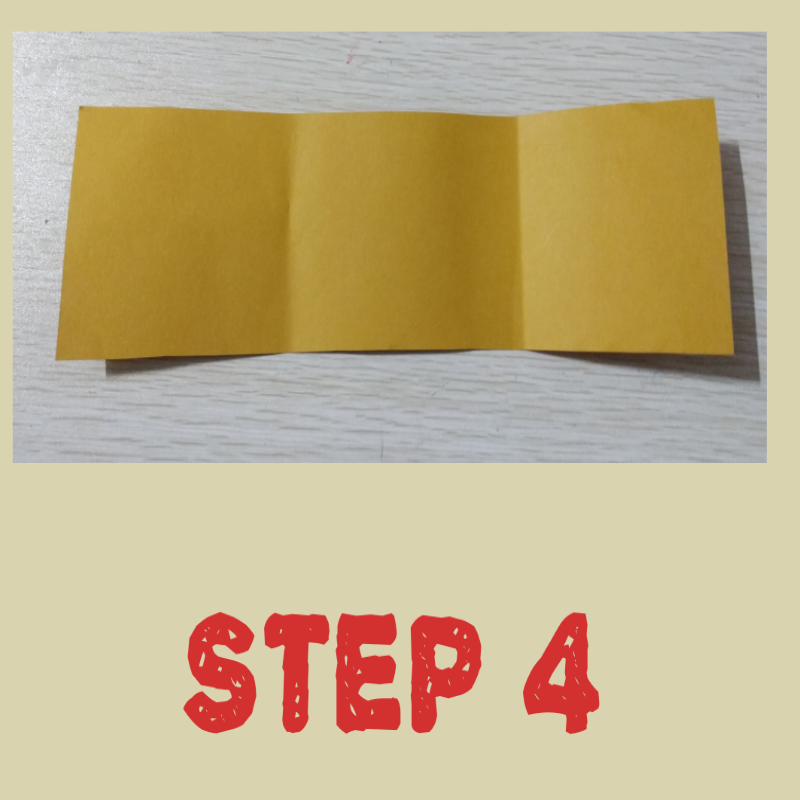 Now stick one end of the paper bag pocket flat on the yellow sheet and cover it on all sides. Leave the front end free without glue.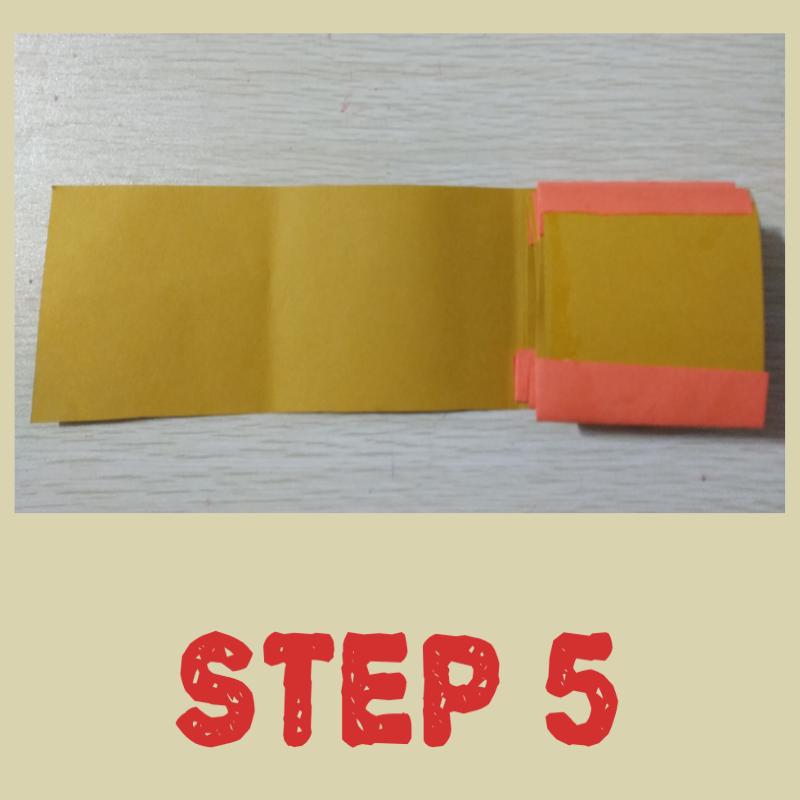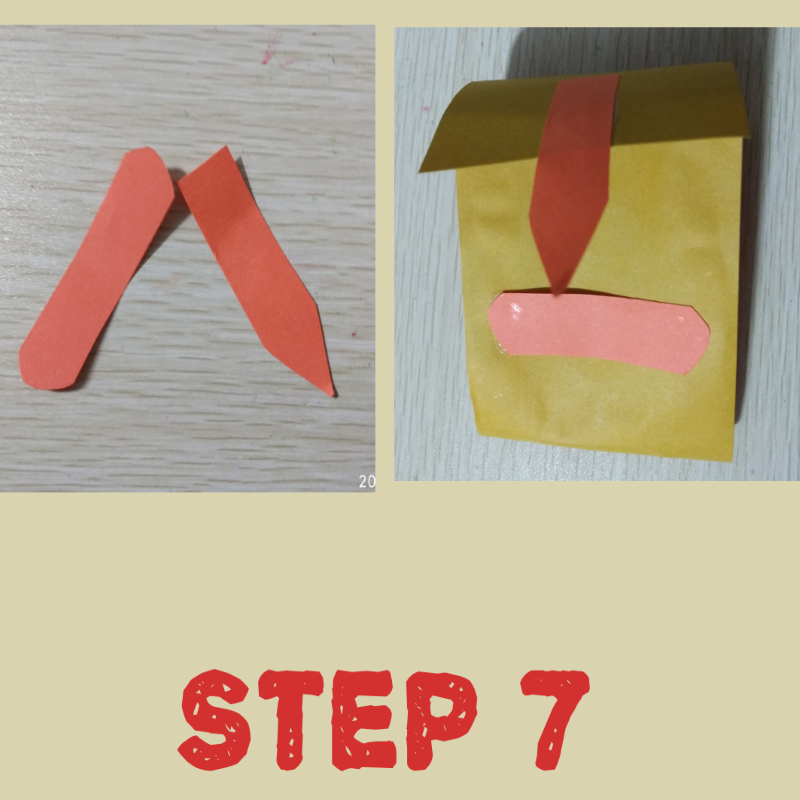 Now cut two small strips of paper to make the buckle and belt of the paper bag on the front side.
While making the buckle make sure you do not stick it completely, just stick the two ends and keep the centre portion free.
Now stick the belt to be inserted on to the buckle on the front side of the bag cover in a way that the belt would go inside the buckle and resemble a lock.
Draw small stitch pattern on the belt and buckle using black sketch pen to give an effect of sewing.
Cut a small strip of paper and stick it on the top to give an effect of a handle.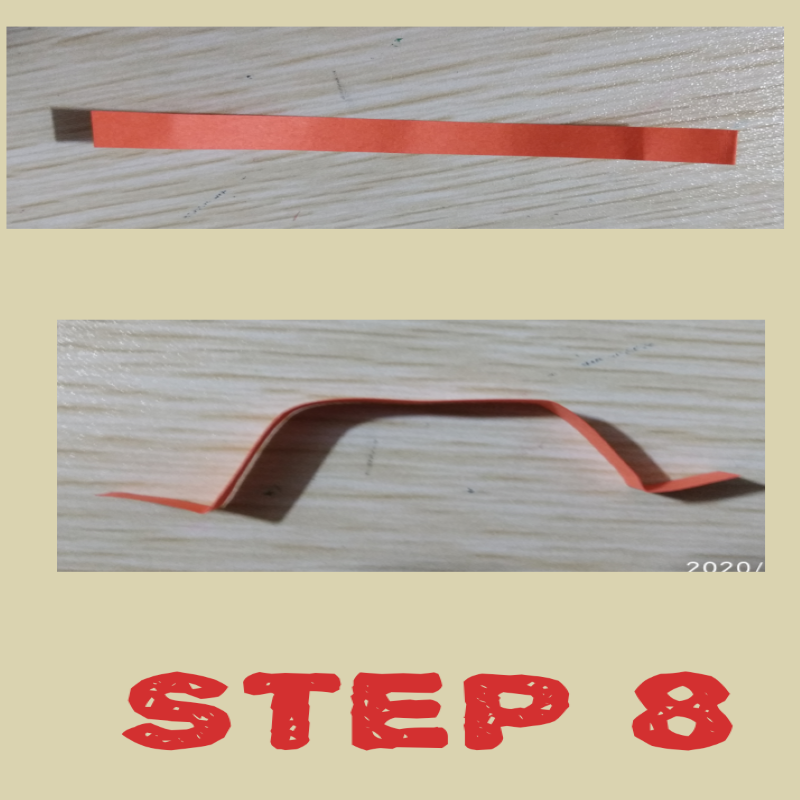 Your mini paper bag is now ready kids.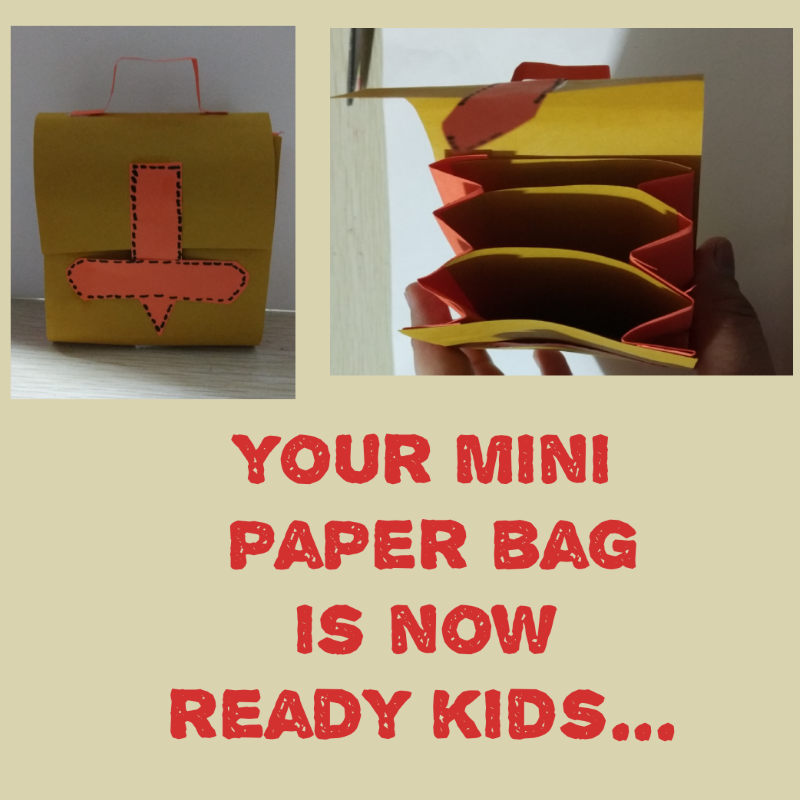 You can change the dimensions to make your bag bigger or smaller in size as per the usage.
Try using different colours to make your bag look more attractive.