Do you know who developed or created or published the Periodic Table? Do you know how Mendeleev arranged the elements in the periodic table? or How Mendeleev Periodic Table different from the Modern Periodic Table ( the current version of the periodic table)? Learn about History of Periodic Table and all the attempts made before the Mendeleev Periodic Table and How and Why we moved to Modern Periodic Table?
In 1869, Dmitri Mendeleev, a Russian chemist and teacher, published a periodic table arranging the elements in a sequence. Mendeleev noted that the repeating patterns of behaviour of elements could be arranged in a sequence, this gave rise to the Mendeleev Periodic Table of the elements.
Mendeleev arranged the elements known at the time in order of relative atomic mass. Read below to know what he did which made his Periodic table much more successful.
Mendeleev Periodic Table
Within five years after John Newlands, English chemist gave his law of octaves.
The spaces marked with blank dash lines in Mendeleev Periodic Table represent elements that Mendeleev deduced existed but were unknown at the time.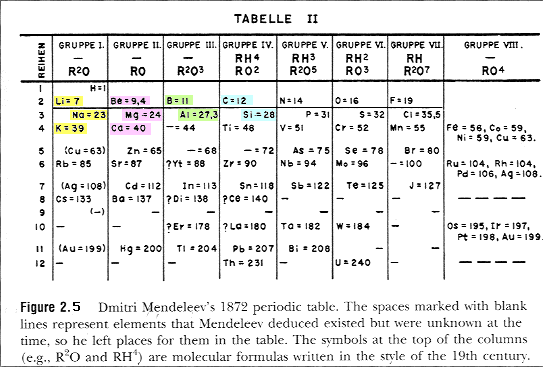 Comparison of Mendeleev Periodic Table and Modern Periodic Table
Modern Periodic Table
History of Periodic Table
John Newlands Periodic Table
mendeleev table
mendeleev periodic table
table of mendeleev
mendeleev table of elements
mendeleev periodic table activity
mendeleev table of chemical elements
chemistry mendeleev table