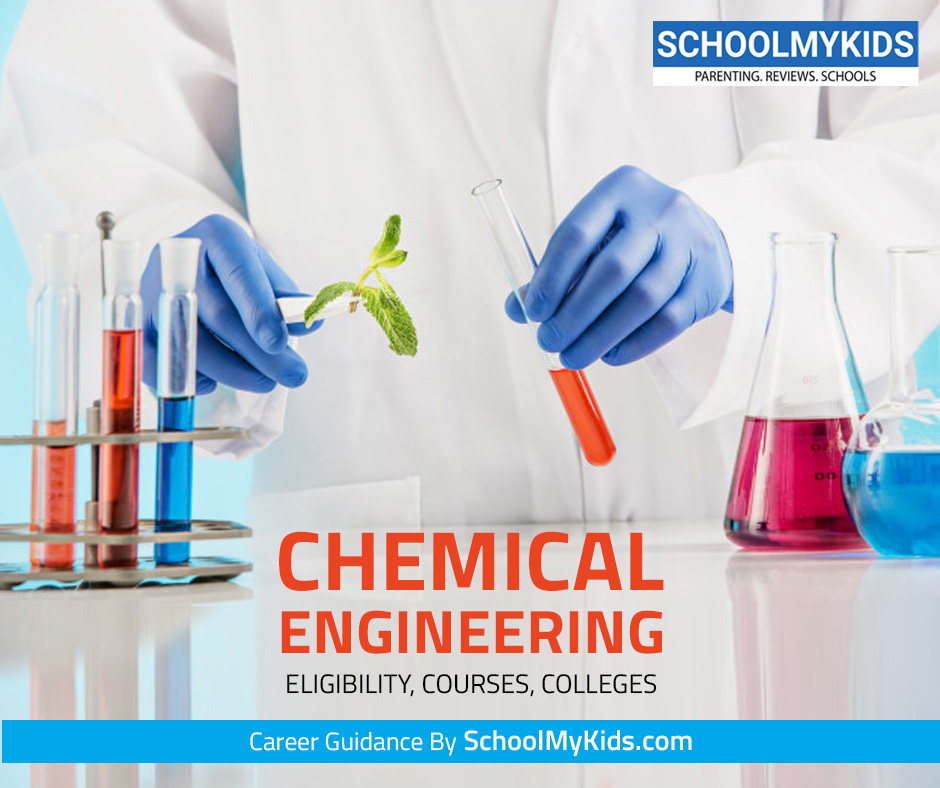 Explore all you need to know about Chemical Engineering (Graduates and Post Graduate), from admission Criteria to Courses/Degrees available to Best colleges offering Chemical Engineering Programs. Know about all career Options after 12th with detail on courses after 12th class and admission criteria and top colleges.
Chemical Engineering Introduction and scope
Chemical Engineering is the design and maintenance of chemical plants and the development of chemical processes for converting raw materials or chemicals into valuable forms including those used to remove
chemicals from waste materials, to enable largescale manufacture. It combines knowledge of Chemistry and Engineering for the production of
chemicals and related by-products. This branch of engineering is a varied field,
covering areas from biotechnology and nanotechnology to mineral processing. It covers various fields of chemical technology in mineral
based industries, petrochemical plants, pharmaceuticals, synthetic fibres, petroleum refining plants etc. Chemical engineers design and operate chemical plants and improve methods of production.
Chemical Engineering Admission Process, Eligibility Requirements
Know the eligibility criteria for Chemical Engineering courses in India
10+2 pass with physics, chemistry and mathematics from recognized Board of
examination. Most of the colleges offer admission on the basis of score obtained in national/state level entrance test.
- --
Chemical Engineering Courses & Degrees
Chemical Engineering colleges/Universities
Top Institutes offering Chemical Engineering course are:
 Indian Institute of Technology (IIT)
Kharagpur
 Indian Institute of Technology (IIT) Kanpur
Indian institute of Technology (Madras)
 Andhra University, Visakhapatnam
Rajasthan Technical University, Kota, Rajasthan
 Guru Gobind Singh Indraprastha University, Delh
Chemical Engineering salary
Chemical Engineering salary in India
Average Salary of an Chemical Engineering in India is between per annum
Similar Courses
SchoolMyKids Counsellor
About The Author:
Please Note:The list of courses and that of Institutes/Universities is in no way exhaustive. The Information about the course is based on information compiled by Central Board of Secondary Education India, We have published this information only to increase the awareness about the course.
Follow SchoolMyKids on Facebook
---