An easy DIY Dreamcatcher tutorial to make a dreamcatcher for kids at home. Dream catcher also known as the good luck charms. It protects the individual from negative dreams. Most people believed that the centre of the dream catcher, which is like the spider web holds all the negative thoughts and let go of all the positive thoughts to the sleeping person below.
It also protects children from negative and evil thoughts. You can easily create a dream catcher at home.
Follow these step by step process to make a Dreamcatchers and it is ready!
What materials do I need to make a Dreamcatcher?
Feathers
Beads/ Embellishments
Needle and thread
Embroidery hoop
Wool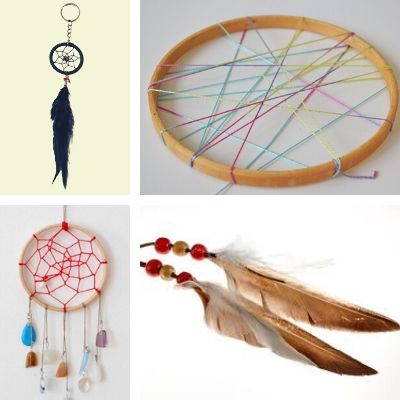 How to Make a Dreamcatcher
Wrap the hoop with the wool. Start by tying a tight knot on the hoop and then wrap it. Continue this process until your frame is completely covered.
Take the thread and tie a knot anywhere on the hoop. Pull your thread a few inches across, wrap it around the ring and then backwards the opening pulling it nice and tight
Then repeat this process, pulling across wrapping around and pushing back through the opening
Continue all the way around so that you get back to your starting point.
 Once you the completed the first cycle, you are going to continue the same process of looping your thread over, under and through the midpoint of each section tightening your strings
Work your way around to the middle until the openings become really small and then tied them off with the knot. Cut the extra thread at the end.
Don't worry if your patterns are not exactly perfect. Each one can make unique patterns
To create the hanging portion of the dream catcher, you need feathers and beads
Wrap the thread around the feather and secure with the double knot. Put some beads into the thread and then attached it to the bottom of the dream catcher.
Try this beautiful easy to make dream catcher at home and let go of all the negativity from your home.