"Global Youth Service Day (April 17 – 19, 2020) is the largest youth service and civic action event in the world and the only one that celebrates and builds the capacity of all youth ages 5 – 25 to help our communities and democracy thrive by working together for the common good."
Many of us parents are looking for unique opportunities our kids can do at home. One great opportunity that takes place this weekend is Global Youth Service Day (GYSD). Even when the family is stuck at home, GYSD is an opportunity to recognize and empower the young people in your life.
Too often, the media focuses on the negative stories associated with youth. While we all see the kids who turn to drugs or crime, we too often don't see the young people all over the world who are leaders, innovators, and problem-solvers, positively responding to the Coronavirus in their communities. We don't do enough to recognize their work, nor do we do enough to include them in the policy decisions that will affect them far more than they will affect the adults writing and voting on the laws. The truth is, every day, even before the pandemic, young people make a significant impact in the communities where they live and the schools they attend.
Please check out below the history of GYSD, the power of youth-led service, and ideas from Youth Service America, one of the founding organizations and current sponsor of GYSD, on what you can do from home with your kids. And while children as young as five can participate, if you have teens at home, explore the YSA site and the resources and examples available to inspire and include them too.
History of Global Youth Service Day
In 1988 Youth Service America (YSA) sent photographers all over the USA to document "A Day in the Life of Youth Service." The next year YSA, along with several partners, planned the first National Youth Service Day. From 1989 to 1999, National Youth Service focused on youth service in the United States, but over time young people outside the United States began to also participate. In 2000 National Youth Service Day became Global Youth Service Day, and the rest, as they say, is history. Today, over 100 countries celebrate GYSD each year.
GYSD has two specific goals. The first is to bring youth all over the world together for a day of volunteer work, or service, in their community. The second goal is to recognize the year-round work youth are already doing in their community.  
What the Difference Between Volunteer, Service, and Service Learning?
A volunteer or a young person serving means basically the same thing in this context: a young person giving their time and support for a cause without receiving financial compensation. In this sense, service or serving has nothing to do with religion. In this blog, to make everything consistent, I call this volunteer service.
Service-learning is similar to volunteer service in that many of the activities are often similar. The difference is how these activities are set up. Service-learning is usually tied to a project goal or learning objective in the classroom.
High Impact Volunteer Service is basically the difference between a young person only giving their time for a cause, and a young person identifying a community need, making a plan, recruiting others to help, and implementing that plan. Many of the benefits below are strengthened when young people are engaged in high impact volunteer service. 
Benefits of Youth-Led Volunteer Service and Service Learning
Several studies have shown that high-impact, youth-led volunteer service, or service-learning, can benefit young people in a variety of ways. Benefits of youth-led volunteer service and service-learning include:
improved academic performance
improved cognitive skills and motivation to learn
increased likelihood of finding a job
reduced risk of substance abuse and other negative behaviors
increased likelihood to volunteer and be community leaders as adults
improved mood and health and reduced stress levels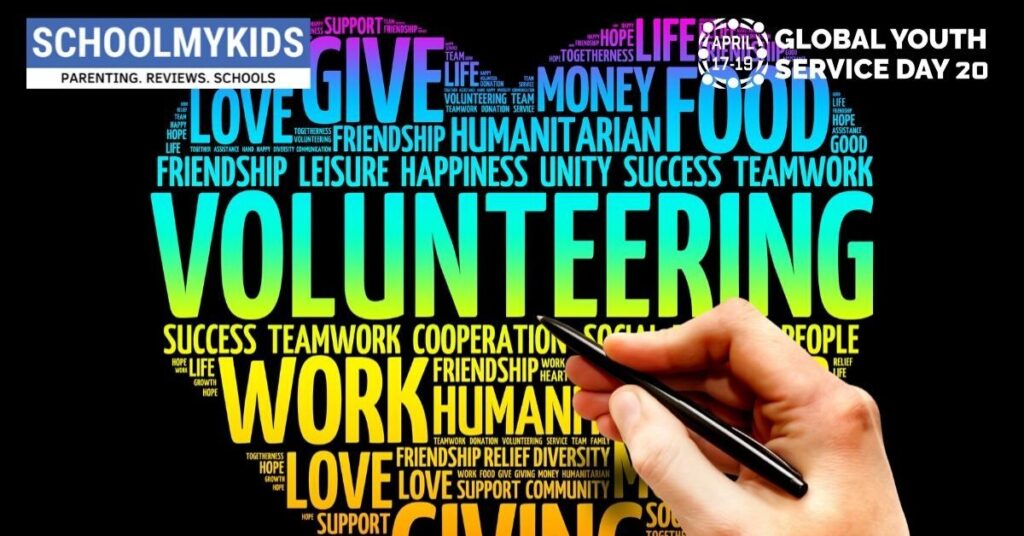 For a more in-depth exploration of these benefits visit YSA's Why Youth Service page.
10 GYSD Project Ideas You Can Do at Home
Don't let the Coronavirus keep your family from celebrating in GYSD this year. There are many ways you can share your project with others and be part of a global movement from the safety of your home. Check out these 10 GYSD project ideas.
1. The #DoGoodFromHome Challenge
YSA, Design for Change, and Hasbro are partnering up to engage young people at home in response to the COVID-19 pandemic. For every kind act, Hasbro will donate up to 25,000 toys and games to organizations providing care to the children of essential workers. Check out #DoGoodFromHome for more details and ideas on projects you can do from home!
2. Global Climate Strike!
Are your kids passionate about the environment? How about you? Check out the Global Climate Strike for ideas on how you can advocate on behalf of the planet, from the safety of your home. Make art, create or participate in a virtual protest, post signs in the window of your home, or participate in a call-in/email campaign. 
3. Make Change Through Policy
To create sustainable change in the community, it's essential to teach, and provide opportunities for young people to engage their local and national policymakers. Pathways to Policy is a 10 step, downloadable guide, with step by step handouts, to support young people and youth advocacy groups, to implement the change they want to see in their community. This is an excellent resource for youth, parents, teachers, and youth development organizations.
4. Crowdfunding
Is there an ongoing crowdfunding campaign you or your kids care about? Or perhaps your family knows of a local organization in need? Crowdfunding can be a great, at-home activity that activates kids' social media and networking skills. Check out YSA's "Ideas to Act" link below for more examples and two partner organizations that can help you organize your own, custom-designed crowdfunding project.    
5. Recognize the Work of Youth in Your Community
As a parent, schoolteacher, religious leader, or youth program manager, post on social media a blog and/or a picture that describes their work. And be sure to tag the youth who participated! Also, send the post to your local newspapers and any community-based webpages. The big idea is for adults and the broader community to recognize the year-round contributions young people are making. Also, check out YSA's Everyday Young Hero Awards for another way to recognize young leaders making a difference in your community. 
6. Reach Out to Seniors and Others Who Are Isolated
Make a list of the older members of your family, other seniors your family knows, and other friends or family who might be isolated. An unexpected card, email, Skype call, or a good, old fashion phone call goes a long way to brighten someone's day. Check out the YSA and GYSD project links below for more resources and ideas.
7. End Hunger in 30 Days
This is an excellent campaign for older youth or youth-focused organizations. The goal is to give 30 minutes a day, for 30 days, to learn more about ending hunger through guided lessons, videos, and discussion forums. The training is designed to educate young people while giving them the tools to be highly skilled Zero Hunger advocates.
8. Turn a T-Shirt into a Reusable Bag
Do you know a crafty kid passionate about recycling, this could be the perfect GYSD at home activity? Turn your old t-shirts into reusable bags with this downloadable activity guide.
9. Find Your Spark
The best projects combine what kids love like art, sports, or music, with what they care about, like hunger, poverty, or hunger. Visit the GYSD 2020 page with your kid, scroll down, and enter their "spark" and what they care about for more project ideas.
10. YSA's Resources
All of YSA's resources are free and downloadable. Check out their Tools to Start Your Project. YSA's creates resources for a variety of audiences, students and youth, educators and youth group leaders, and parents and caring adults. My favorite resource that can be used by any of these audiences is the Youth Changing the World Toolkit. This takes a group of young people through the process of investigating an issue they care about, planning a project, and taking action by implementing and managing the project.
Most of the ideas above are taken from YSA's Ideas to Act for the Common Good During Coronavirus Crisis and GYSD's Get Ideas page. In addition to project ideas, YSA has a wide variety of videos and tip sheets from how to take pictures, to how to develop a social media strategy. Basically, any of the components needed to create an effective project are here.
Post Your Project
After planning your project, even if all the activities happen at home, scroll down, and post your project to the GYSD Map. While we are all isolated from each other, now more than ever, this is an excellent way for the kids you are with to see what young people are doing all over the globe. Be sure to use the social media functions to share your progress and your final results! And be sure to use #GYSD20.
Every Day is Global Youth Service Day
"Youth-led solutions to real-world problems," is still my favorite catchphrase from when I worked at Youth Service America (YSA). YSA is a nonprofit/NGO youth development organization, and its mission is to empower young people to "find their voice, take action, and make an impact on vital community issues." The catchphrase succinctly explains the mission of YSA and the power of youth-led volunteer service.
Kids do care. Kids see and are affected by the same challenges we as adults are trying to protect them from. Young people are wired to take risks, to think outside the box, and if we only ask and empower them, they possess vital information and ideas needed to solve these problems. Even though you might be stuck at home, take this opportunity to ask your son or daughter what they care about. See if there's a talent or skill they can use to make a difference, no matter how small it is.