We see giraffes in zoos or on television. They have a very long neck and are one of the tallest animals in the animal kingdom. Yellow and brown all over giraffes are herbivores and live in the African jungles. So today let's make a simple paper giraffe and add one more member as a part of our animal kingdom. We need basic art and craft supplies to make this simple yet unique giraffe paper-craft. 
Follow the instructions to know more
Material Required
Yellow paper 
Brown paper 
Sketchpens
Pencil
Scissors 
Glue
How to make paper Giraffe
To start with we need to make the body of the giraffe. 
For this, we need a yellow sheet of paper. 
Cut the sheet into a cone-shaped pattern. The base should be roughly 12cms.
 Roll it into a cone and stick the edges.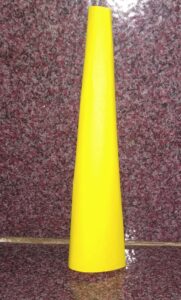 Next, cut the face of the giraffe using the same yellow paper and stick it on the apex of the cone.
Add details to the face using a black sketch pen 
Next, we need to add the brown patches on the body of the giraffe
For this, we need a small square or rectangular pieces of brown coloured sheet. 
Cut the pieces and stick them on the body of the giraffe
 That's it your simple paper giraffe craft is now ready! 
Try for yourself!
You can even make the entire family of giraffe using the same steps given above. 
Enjoy kids!