"Every child is an artist. The problem is how to remain an artist once we grow up." –Pablo Picasso
One of the activities I looked forward to when I found out I was going to be a Dad was making art with my kid. Today it is still one of our favorite activities to do together. But this isn't a blog about parent-kid ideas for art projects, I'll write that blog later. Instead, I wanted to share my experience these last 5 years making art with my kid. My goal with these 10 strategies is to provide you with ideas and resources to help your family make the most of creating art together.
We all have the capacity to be creative!
"If you hear a voice within you say, 'you cannot paint,' then by all means, paint and that voice will be silence." –Vincent van Gogh
It's funny how most people will share with me that they are either artistic or they are not. They will either describe themselves as creative or not creative, seldom somewhere between. One of my most stubborn examples is my wife. She's a brilliant, hilarious, and accomplished professional and mom, but in the past, she was totally intimidated whenever I mentioned making art with our daughter. While making art with our kid still falls more within my domain, through my badgering, my wife has slowly opened up and regularly participates. The truth is, and I think we all already know this, our kids don't care how proficient we are as artists or how comfortable we are creating something new. In the end, it's the time we are spending with them, and the shared experience of using the right side of our brains together, that makes creating art together memorable. So, if you describe yourself as lousy at art, or not the creative type, try to let that go. There are so many YouTube videos, apps, and crafty-parent-kid sites out there, including this blog, to help get you started.
10 Tips for Teaching Art to Kids
Strategy #1 Set up a space to make art.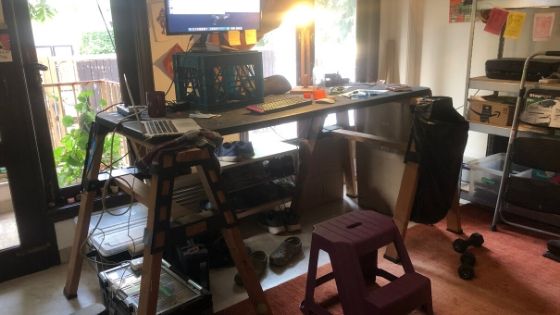 I've included a few photos here of our home where art happens. The first photo is taken in my study where I work at a standing workstation. In less than a minute I can move the monitor to the left, pull up my daughter's footstool, and voila, we have a space where my daughter and I can create art side by side.
The second photo is of our coffee table in the living room. I love this coffee table. It's cool in that Bohemian kind of way and, most importantly, I don't care if we spill paint on it or write on it, whatever damage or mess we make only adds to the table's character. We do most of our art in these two places.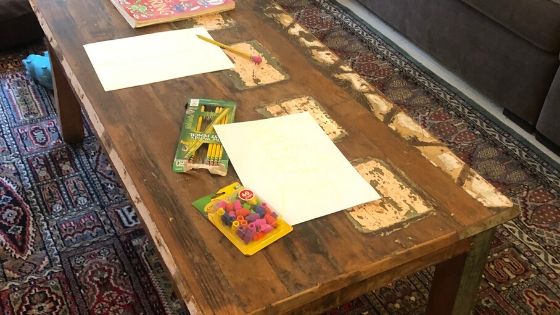 I wanted to include this third photo of an easel, which we actually seldom use. While this nice and overpriced easel is designed for kids to do art, among other activities, we use this one the least.  My strategy is: keep it simple. My workstation and coffee table are the two places we hang out the most, and thus the two places we are more likely to create art as a family.
Strategy #2 Buy your art supplies.
Similar to my advice in setting up a space to create art, when buying art supplies, keep it simple. Here's a quick rundown of the basic supplies we have in our home.
The most important advice is to buy non-toxic, "safe for kids", supplies whenever possible.
While my general advice is to keep it cheap, I go for the name-brand non-toxic materials when it comes to markers and paints just to be safe.
My last piece of advice: with both the materials and the art space, try to give your kids some choices in how they set up their art space and the supplies you buy and then use.
Here's a photo of where we try to keep our art supplies in one place with varying degrees of success.
Crayola Ultra-Clean Washable Nontoxic Markers
Crayola Permanent and Water Resistant Non-toxic Acrylic Paint
Any variety of cheap paint brushes
Any variety of cheap drawing pencils, erasers, color pencils and crayons
Watercolor paint and paper
Canvas and canvas boards
Variety of paper, sizes and colors.
Glue, scissors, ruler, glitter, stickers
Drop cloth!
Strategy #3 Display your kid's art.
I love having examples of our daughter's artwork up around the house.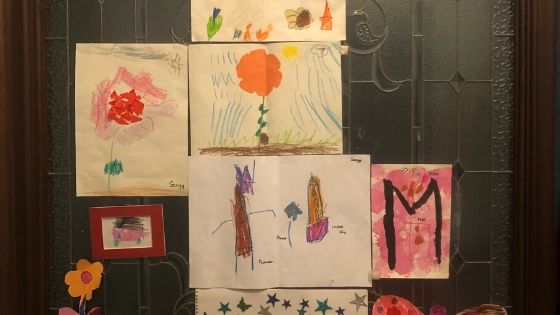 My first example is an informal display of several pieces prominently shown in the entryway, so everyone sees the display upon entering our home. It is important that our daughter sees how proud we are of her and her work. Every few weeks or so, I also ask if there are any pieces she'd like to switch out with new art. This theme of giving our kids choices will come up several times in this blog.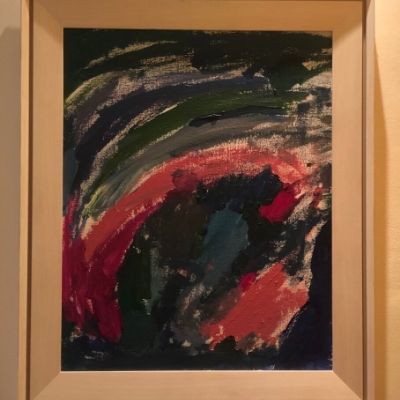 The second photo is an abstract our daughter did on canvas board. I just love the colors and the shape of the strokes. When I had it framed, I didn't realize the positive impact it had on all of us. Again, it shows her how important her art is to us. I also absolutely love that we have a piece of her art that will be in the family for years to come. My advice is to definitely look for an opportunity to frame a few pieces of your child's artwork. 
Strategy #4 Who's the DJ while we are making art?
When we make art together, we love to listen to music. We usually take turns choosing songs off my iPhone. Often, she cranks up her standard Taylor Swift, Sia, and Disney favorites, and I get the opportunity to continue her indoctrination of Pearl Jam, Wilco, and My Morning Jacket.
Strategy #5 Save your kid's art.
Throughout our children's art career, they will create a lot of art. We've all run into the dilemma of what do I save, what can I recycle, and what do I have no choice in throwing out? While I don't have any easy answers outside of buying storage boxes and saving all of it, there are two options I suggest you consider.
First, simply upload images of your kids' art to social platforms like Facebook or Instagram. Also, if you haven't yet, consider checking out the ever-growing number of apps specifically designed to preserve our kids' art. Three apps I'm familiar with are Keepy, ArtKive, and ArtMyKidMade. While some of these apps are free, they all have special buy-ins for advanced storage and functionality, some of which are really cool. Check them out, and if you're already using one of these apps, share your experience in the comments below.
As for me, I scrapped the apps a couple of years ago. I preserve a few pieces here and there, post a bunch of images to Instagram and Facebook, and then become Kondo-like in quickly and decisively deciding what I can give away, what I can recycle, and what I can throw away.
Strategy #6 Document your progress.
I love taking photos that show my daughter's process as she creates a work of art and often later post the series to Facebook or Instagram. First, it's just a great way to share a side of my daughter with friends and family, while preserving the art digitally since I'm likely going to recycle or throw out the art at some point. And second, this is a great strategy because I love the idea that as my daughter grows up, and then long after I'm gone, there's a record of how we spent time together.
Strategy #7 Check out YouTube for ideas and tutorials you can watch together.
This strategy depends on what screen time rules you are following, but if you are open to watching a YouTube video with your son or daughter, consider this strategy. There are all kinds of art-related kid-adult video tutorials that can teach both of you a skill or lead you through the process of creating art.
Potential videos could include painting and drawing tutorials, DIY (Do It Yourself) projects, and goofy ideas like kids designing a new hairstyle for their parents or creating a design for their parent's next tattoo.
We have watched a few of these videos ourselves. This strategy is great if you are looking for ideas. The few times I have watched a video together with my kid, we enjoyed learning a new skill and applying that skill as we worked on a piece of art.
Strategy #8 Check out the DIY kits for inspiration.
DIY kits are great for a couple of reasons.
First, if you are struggling for ideas and want to have something ready to go with minimal planning or effort beforehand, then consider keeping a few DIY kits in the closet. And hey, we've all been there. As much as I love just standing next to my daughter, painting a watercolor, we use DIY kits all the time because they are fun.
And second, go shopping for DIY kits online or in an art store with your child. Both of you select a couple of DIY projects that look interesting to each of you. It's another example of giving our kids choices in what they create.
Strategy #9 Create individual and group projects.
There are two modes we use when doing art: either we're working on individual masterpieces side by side, or we are collaborating on a single masterpiece together.
While most of our art projects are done by ourselves, with both of us providing the other with outstanding feedback and advice along the way, the fewer times we've worked on a piece of art together have been a lot of fun. I had this idea a couple of years ago and bought a giant canvas board. At this point, I bet we've collaboratively worked on this painting five or more times.
Our daughter has then worked on it on her own, at least that many times. This project has taught us a lot, including how difficult it can be to know when an art project is finished, and when working with acrylic paint, how you can layer or even replace images quite easily.
Strategy #10 Find a kids-parent art group or class. Even better, start your own!
We live in Delhi, and it seems like at least once a month a parent is sharing on WhatsApp a new kid's art class or art group they've attended or a new class that is starting. More recently, an art class I attend from time to time, each get together is led by a different visiting artist, notifies everyone beforehand if kids are allowed to participate in the class with their parent.  I simply love this idea and don't see enough courses designed so that the parent and child do art together. If you can find an opportunity like this close to you, check it out. I bet you will have a blast!
Pablo Picasso also said, "The important thing is to create." This is the big idea I want to leave you with and probably the central theme of why I love to make time and create art with my kid. There are many things we can do with our kids to create memorable experiences, and I simply find making art together, like being outside, is one of the best. There are also so many lessons we can include in the process, from cleaning up after yourself, to giving them choices in where, how, and what they will create. Last, and maybe most important, all human brains include a right and left hemisphere! So, we don't have the excuse of an inability to create art with our kid. All we need is time, a table, a few supplies, and love.
Please share your experience and the lessons you've learned creating art with your child in the comments below.