Punctuation and Capitalization
English Worksheet : Punctuation and Capitalization
Rewrite the following sentences using appropriate punctuation marks and capital letters wherever necessary. Basic rules of capitalization and punctuation are given below.
Proper nouns always begin with capital letters.
A capital letter is used at the beginning of a sentence.
A statement and an imperative sentence end with a full stop (.).
Interrogative sentence ends with a question mark (?).
An exclamatory sentence ends with an exclamation mark (!).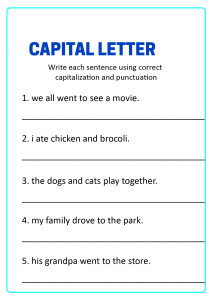 Related Worksheets
Related worksheet for Kids