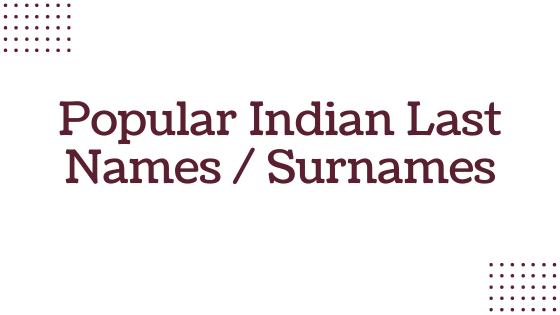 We have written thir article on Indian Surnames or Indian Last Names, based on the request of our users and to address questions like What are some of the most common Indian last names? or What are most Popular Indian Last Names or What are most common Indian Surnames?In this article we will
Article is for information and no way aims at hurting any individual or community. Similar to last names in any other country, Indian last names or Surnames are derived from religion, occupation, region, and caste. In some cases parents also use the surname or Last name of their grandfather or grandmother's name babynames. Some people also ask How to identify caste of person by surname in India? You can also use below list of Popular Indian Last Names or Indian Surnames to guess the region of origin.
Popular Indian Last Names or Most Common Indian Surnames
Kumar
Lal
Sharma
Shan
Jai
Pal
Aggarwal
Raje
Chande
Chander
Nara
Rai
Nath
Goel
Bhat
Raji
Anand
Suri
Kapoor
Chandra
Patel : Patel has emerged as the most common Indian surname in the UK
Verma
Malhotra
Sai
Engineer
Arun
Madan
Srini
Prasad
Sara
Rana
Raman
Subram
Mehta
Subramani
Sethi
Vijaya
Malik
Narayan
Mittal
Nita
Kishore
Roy
Chaudhary
Charan
Nigam
Sen
Subramanian
Nirmal
Pawan
Manohar
Sahni
Lalit
Rajan
Sehgal
Uddin
Saini
Neel
Jana
Darsha
Ranga
Vish
Mehra
Puri
Muthu
Gandhi
Lata
Chauhan
Saxena
Swami
Neela
Chandrasekar
Soni
Dhawan
Nagpal
Joshi
Krishnamurthy
Persaud
Punj
Veena
Mahajan
Manju
Dutta
Sandeep
Narang
Naran
Veer
Tyagi
Samuel
Srivastava
Sudha
Srivas
Mati
Neelam
Rastogi
Bhatt
Rajagopal
Srivastav
Ganesh
Jindal
Chakrabarti : derives from Sanskrit 'Cakravarti', meaning a ruler whose chariot wheels roll everywhere without obstruction.
Meena
About The Author:
SchoolMyKids Expert
Last Updated: April 11, 2020
This disclaimer informs readers that the views, thoughts, and opinions expressed in the above blog/article text are the personal views of the author, and not necessarily reflect the views of SchoolMyKids. Any omission or errors are the author's and we do not assume any liability or responsibility for them.
Follow SchoolMyKids on Facebook
---