"Is your child ready for preschool just yet?"
It is a difficult question that most parents will not feel confident to answer.
Sending out kids to preschool is perhaps one of the toughest challenges for any parent.
Right before attending a preschool, most children have separation anxiety, and they either begin crying or cling onto their parents.
Over the years, things have changed for better with the concept of child orientation, which means preparing children before they attend a preschool.
For your child, preschool prep will be a stage rehearsal before starting preschool.
In this article, we would answer the question "how to prepare your child for preschool" by listing five ways. Here are they:
1. Play Games with your Child
Playing games with your child will improve his/her cognitive skills. Such games also help a child understand instructions. This will be a good first step for your child while preparing for preschool.
You can play ball games, board games, or any other types of games to engage your child. It is also important that while playing games, do not let your child win all the time. This will help the child learn about real-life situations when playing with other children and become resilient.
2. Have a morning and bedtime routine in place
Setting up a morning and bedtime routine will help your child get used to a daily and weekly schedule. It will help your child get ready for a similar routine when the preschool starts. Teach him/her about making the bed, have breakfast every morning, and dress up for school. Repeat the same with bedtime routines. Once your child gets used to this schedule, a preschool routine will be smooth sailing.
3. Let your child part of a playgroup
Making your child part of a playgroup is a key step in the getting ready for the preschool checklist. Before attending a preschool, becoming part of playgroups will get your child accustomed to a similar environment. In a preschool, there will be many other children, and playing with them and developing a rapport will reduce your child's separation anxiety.
4. Teach your child how to pack their schoolbag
Help your child to be responsible for his/her books, toys, and other items. Teach about packing the schoolbag each day with the relevant books. Also, teach your child to unpack the bag after the preschool and put the items in the right place. This is an effective way to teach your child about tidying up before and after preschool.
5. Visit the preschool
You can take your child to visit the preschool a couple of days ahead. This is a good way to get your child familiar with the preschool surroundings, including the sight of other children, teachers, and school activities. This way, your child can realize how fun it is to attend preschool, make new friends, play with other kids, and do other stuff.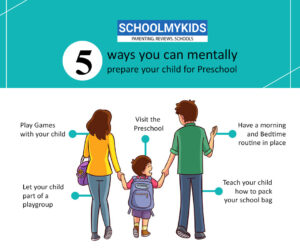 Going to preschool is a big step for any child. As a parent, your role is to help your child get ready for the transition. We hope the listed ways will answer the question "how to prepare your toddler for preschool" and help you implement the tips right away.