The amount of food a toddler requires from each of the food groups in the pyramid is based on daily calorie needs. Toddlers need between 1,000 and 1,400 calories a day, depending on their age, size, and physical activity level. To make them eat those calories, we parents have to struggle a lot to make these calories look nice and delicious to eat. The job of a mother and also father if he can cook, is to serve kids Healthy and Yummy food, it is not that difficult if one knows what, when and how to serve.
So it's all about what you decide to feed, at what time, how is it going to be prepared/cooked and how it's presented to kids. Each step requires basic understanding and research on food items. This food pyramid really helped me in taking a decision on what to be cooked. I am sure this will help other mothers also.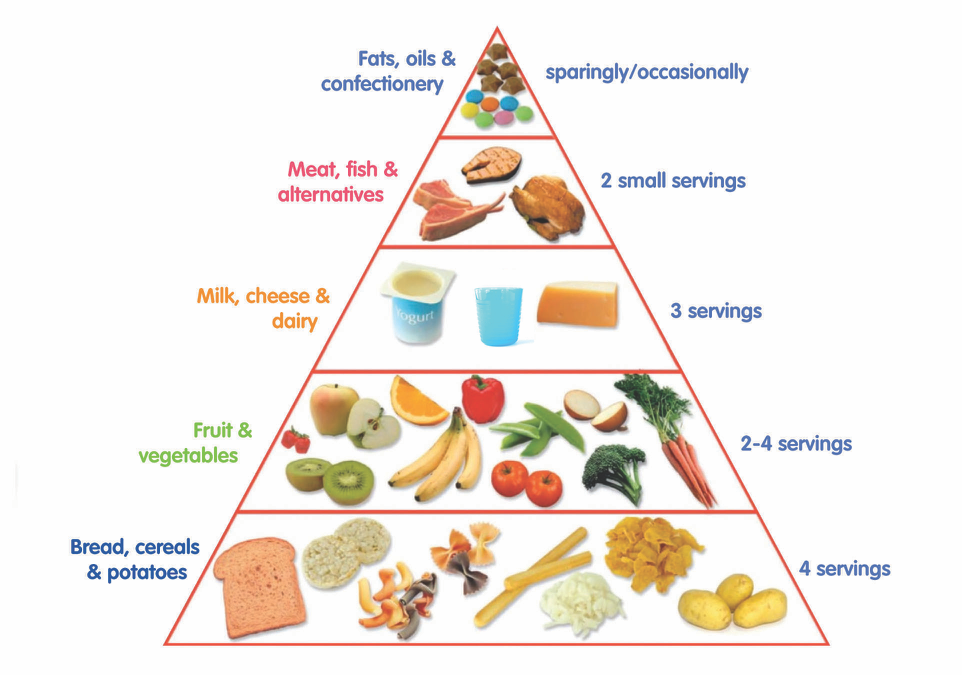 Mothers can divide the food pyramid into three big meals and two small meals providing all nutrients, vitamins, minerals, proteins, carbohydrates, and fats. Someday kids are moody and don't want to stick to daily healthy eating then we must not push the child to eat because then they tend to eat when they are not hungry also.
It's time to learn the trick and treat your child with healthy eating. If we develop healthy eating habits now, when they are teenagers, believe me, they will never fuss about food and push their plates in the sink. Sharing a few recipes which help my child to eat healthy regularly.
Mini vegetable idlis
Take 1 bowl of curd
1 small bowl of semolina
Cut carrot, capsicum, onion, cottage cheese, spring onion, chop them finely.
Mix all the above items and make a smooth mixture.
Apply little oil with the help of a spoon and pour the mixture in" idli "stand.
Cover the "idli" stand with plate
It is cooked in 10 mins and a healthy snack is ready for our kids.
Mixed Pulses Pan Cakes with Veggies
Soak overnight all those healthy pulses which your child don't like to eat.
In grinder put 2 tsp of ginger paste and chopped coriander leaves and soaked pulses.
Grind it to smooth paste then add chopped onions and grated carrots in it. Add salt and little of black pepper.
Spread it like dosa / Chila in nonstick with less oil and cook it both sides, serve your child with curd or Tomato Ketchup.
Healthy and delicious,  Chila's are ready which are full of proteins and vitamins from vegetables.
Energy Booster's
It's not necessary that big meals are always more healthy and nutritious we should try feeding our kids which I call "Energy booster shots " like fruits and cheese while they are playing, sprout salad, cheese with kids favorite Monaco biscuits, the fruit bowl with almonds raisin and jaggery powder.
Keep small containers on dining table filled with walnuts, pistachio, walnuts, almonds, and raisin. Sometimes keep salted sunflower seeds pumpkin seeds and even peanuts are healthy for kids.
Dhoklas With twist
Spinach is a rich source of Iron and one dish we can think of is "palak paneer" but to make it delicious and to be eaten by your child is sometimes very difficult and for them it's boring. Will twist the recipe of "dhokla" and serve them snack full of iron and other nutrients.
Take 1 cup of gram flour
4 spoon of curd
2 bowl of chopped raw spinach
Grated ginger and garlic
Grated carrot, onion, beans other veggies which your child don't like or eat.
Mix the above ingredients add salt and make a smooth mixture, consistency should be like batter of cake.
Take a bowl to apply a few drops of oil on the surface of the bowl.
Add mixture in the bowl and steam it for 30 minutes.
Once its cooked cut it into pieces of heart, circle, square, rectangle star shape etc and then cook both sides of the cut shaped "dhoklas" with oil or butter and serve your kids with their favorite cheese dips.
To me sometimes I miss breastfeeding my child, it was so easy for me to always eat healthy for my child's health. Imagine drinking spinach soup, all fresh juices, and with one damn suck, all nutrients and essential minerals go inside your kid's body helping them in all ways.
Instead of twisting their ears be a smart parent and serve your kids with healthy food by little twisting of food and vegetables.